Frequently Asked Questions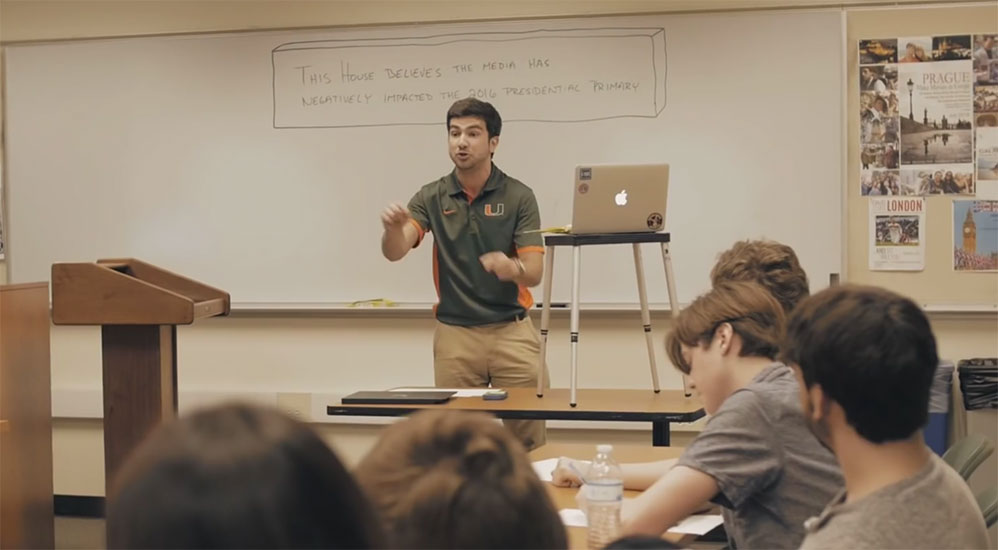 Where is the debate institute located?
The UM Hurricane Debate Institute is located at the University of Miami School of Communication. The address is 5100 Brunson Drive, Coral Gables, FL 33146. For directions, please visit- http://com.miami.edu/directions.
Drop-off and pick-up will occur at the courtyard to the entrance of the School of Communication.
Is this an official University of Miami program?
Yes! The Hurricane Debate Institute is an official University of Miami program sponsored by the School of Communication.
What materials should students bring to the institute?
While there are no required materials, students should bring writing instruments and a notebook to the institute each day. We also recommend that students bring a sweater, as the classrooms can get a little chilly. Students are welcome to bring their laptops and can connect to the School of Communication complementary internet. The Hurricane Debate Institute, University of Miami, and institute affiliates are not responsible for any property that is lost or stolen while students are attending the Hurricane Debate Institute.
What is included in the price of tuition?
Tuition includes quality instruction and materials that are unique to the Hurricane Debate Institute. Students will receive written assessments of their skills and areas for improvement. Students will also receive a t-shirt and certificate of completion. Lunch and snacks will be provided daily.
Do students need to bring lunch?
No. Lunch will be provided at the University's Hurricane Food Court.
What methods of payment does the institute accept?
The UM Hurricane Debate institute accepts credit card payments and checks.
Credit card payments can be made by calling 305-281-2705. At this moment we can only We accept all major credit cards online at http://www.com.miami.edu/payment
Website instructions: Click on "Pay Now". On the first page, put in the STUDENT NAME on the payment form. On the second page, put in the credit card holder's information. Please remember to confirm payment. An email receipt will be sent as soon as the payment goes through.
If you have any issues completing the online payment, please email hurricanedebate@gmail.com or call 305-281-2705.
Check payments can be made payable to "UM Debate" and sent to:
Patrick Waldinger
P.O. Box 248127
Coral Gables, FL 33124
Is the deposit refundable?
No, the deposit is not refundable. In order for the Hurricane Debate Institute to provide the highest quality instruction, we need to be able to plan ahead.