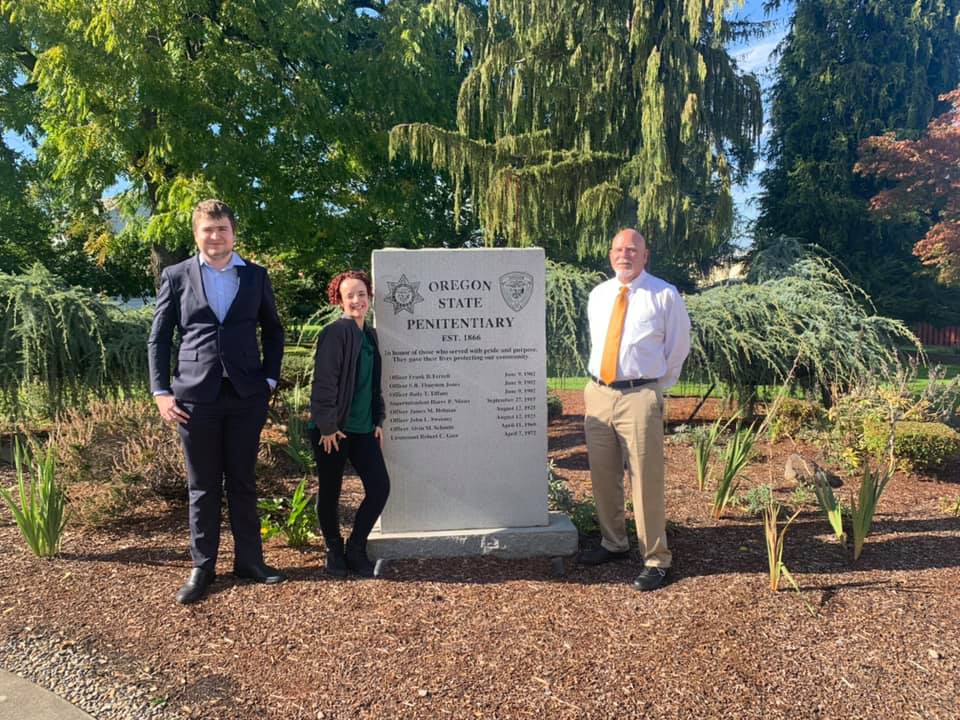 Debate Team Goes to Prison
Toastmasters International is a non-profit educational organization that teaches public speaking and leadership skills through a worldwide network of clubs. There are more than 16,000 chapters of Toastmasters worldwide. One of the most unique chapters is in the Oregon State Penitentiary in Salem, Oregon. Since 2004, inmates in this maximum-security prison have developed speaking and critical thinking skills through their participation in the organization. Their activities include debate training from the debate coach at Lewis & Clark College and participation in competitive debate. The penitentiary also hosts the only intercollegiate/institutional academic debate event in the United States, which is held inside the walls of a maximum-security prison prison. Twelve university debate teams are invited to compete with four teams made up of inmates in an all-day debate tournament. This year, UM Debate was again invited to participate. UM also participated in 2017.
On October 5, UM Debaters Artem Sviridov and Kerra Masso competed in the Ninth Annual Oregon State Penitentiary Debate Tournament. While they did not advance to the final table, Sviridov and Masso had an outstanding day gaining insight about the nature of life inside the prison walls, and engaged in memorable conversations with the men of OSP. The inmates made a point to engage their college guests and get to know them.
"It was definitely an insightful experience, it was completely different from what I expected an experience inside a prison to be like. Everyone was very nice and welcoming," said Sviridov.
While Sviridov and Masso traveled to Oregon, the UM Policy Debate Team competed in Orlando, FL. Mollie Blank, Zahra Ahmad, Dan Barry, Blessing Iyiegbu, Pham Hoang, Rohan Tharaney, Hamza Farooq, and Vinay Malut represented The U in an intrastate debate tournament at the University of Central Florida. The tournament is designed to support novice debate competition. On Saturday, these UM students competed in the Sunshine State Showdown against debate teams from the University of Central Florida and the University of Florida. Malut, a sophomore, was named the top individual speaker at the tournament. The UM debate team will continue with competitions this weekend, heading to the University of Mary Washington in Virginia.
David Steinberg, UM director of debate, was pleased that UM was able to participate in both unique events. After the Sunshine State Showdown, he remarked that he is "especially proud of UM's support of novice debate."
"UM is one of the few universities in the country where participation is open to any undergraduate student, and it is likely that we introduce more new student debaters to intercollegiate competition than any other institution," said Steinberg.
In addition to preparing for national level tournament competition and debating at the Georgia State University Tournament in Atlanta, Julia Lynch, debate team president, has been organizing and conducting on-campus debate programs under the umbrella of UDebate.
"UDebate also fosters dialogue on campus by hosting public events open to all students and staff. On September 30, the team hosted a UChat! Moderated Discussion focused on the importance of college rankings. Given the recent publication of the U.S. News college rankings and UM's unfortunate drop, students engaged in lively discussions regarding the report's impact on prospective applicants, current students, and alumni," said Lynch.
Be on the lookout for upcoming events including a Democratic Debate Watch Party which will be co-hosted with the College Democrats on Tuesday, October 15, at 8 p.m. in Shoma Hall, CIB 3053, at the School of Communication. Additionally, the team will be hosting another UChat! on Thursday, November 14, at 6 p.m. in the StormSurge Room. All students and staff are welcome to join for great discussion and light refreshments.
From: https://com.miami.edu/2019/09/24/debating-in-english-when-its-your-second-language/