EXPERIENCE & EMPOWER

---

Embrace a unique opportunity to enhance your college experience.

PROVEN SUCCESS

---

Debate experience is a valuable skill for many professions, such as communication studies, political science, and law.

LEARN NEW SKILLS

---

Many students say that debate taught them critical thinking skills that turned out to be essential later in life.

TRAVEL

---

Our team travels to multiple tournaments across the country each semester - and the program covers the costs!

DEBATE IN SPANISH

---

UM is one of a growing number of North American debate teams competing in Spanish language Parliamentary debate.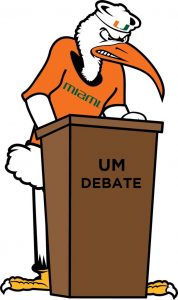 About UM Debate
The University of Miami Debate Team is a co-curricular activity sponsored by the School of Communication. Participation is open to any undergraduate student. The team travels nationally to compete in various intercollegiate tournaments each academic year. The University of Miami is a member of the Cross Examination Debate Association (CEDA), The National Debate Tournament (NDT), the American Debate Association (ADA) and Delta Sigma Rho-Tau Kappa Alpha national forensics honorary (DSR-TKA). Team members have the option to compete in two-person policy debate, British Parliamentary two-person debate, or the team Worlds debating format. The team also hosts on campus events including public debates, intercollegiate tournaments, presidential debate viewing parties, a high school summer workshop and high school policy debate tournaments. We are a tightly knit community that aims to support any student who wants to learn public speaking and debate skills.