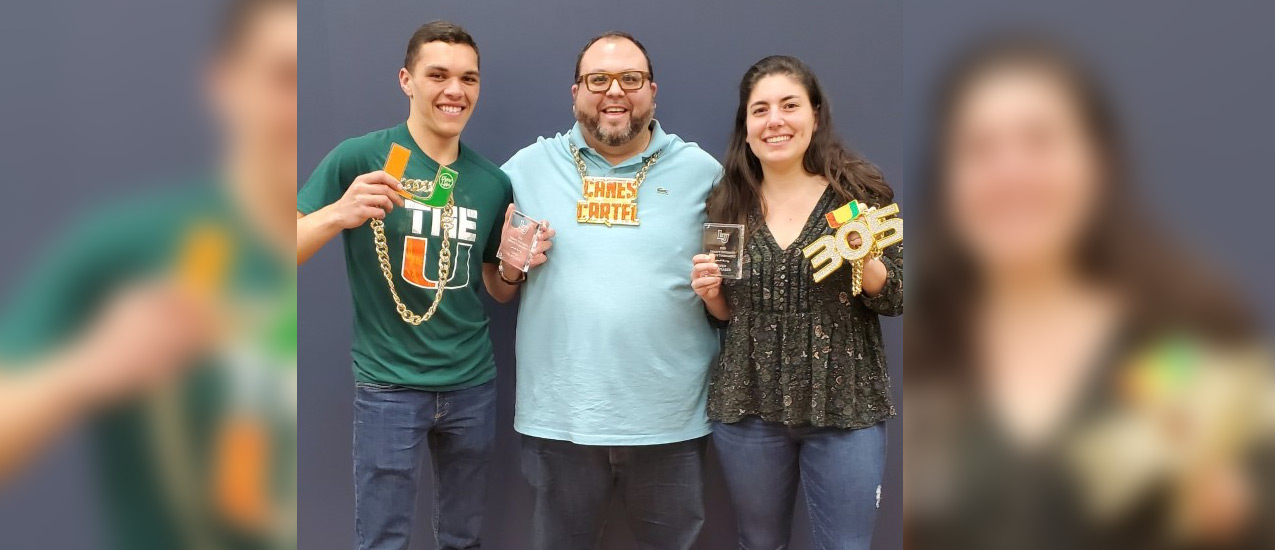 UM Debate Team Advances to Finals at Liberty University Tournament
By: Jabria Roscoe
University of Miami's Policy Debate Team advanced to the final round of the Liberty University (LU) Debate Tournament held Jan. 24-26 in Lynchburg, Virginia. The LU tournament is a nationally ranked annual debate competition.
The UM team of Julia Lynch and Zach Homeijer won five of six preliminary debates, earning them a bye into the quarterfinal round where they won a unanimous decision against George Mason University. This set up a semifinal debate against the host, Liberty University, whom Zac and Julia defeated to advance into the final round. Their run ended in second place as they fell to the University of Pittsburgh in finals.
Patrick Waldinger, co-director of debate at UM, said, "You could really feel they were confident as they were moving through the competition."
With their success at LU, the policy debate team has improved its chances to qualify for a spot in the prestigious National Debate Tournament (NDT). The top 78 university teams are selected from throughout the country to be a part of the event.
"This is an exciting opportunity for our debaters," said David Steinberg, director of debate at UM. "They have worked exceptionally hard and with tremendous perseverance with this goal in mind. It has been twenty years since UM qualified."
In order to be selected for the NDT, they must either qualify at the District Tournament in Atlanta, Georgia, or receive an open invitation based on their year-long record. Waldinger says the team's plan is to continue to be focused for the qualifying event.
"This team is amazing because they work so hard and give it their all," Waldinger said.
According to Steinberg, getting to where they are now was no easy feat.
"We've been competing, debating, and winning with far greater obstacles than many other teams. Most students who will qualify to the NDT began their college debate careers as former high school stars on scholarship and supported by armies of graduate assistant coaches. Julia and Zach began at UM as novice debaters." said Steinberg.
The team received their debate topic in June and have been working ever since to prepare for the LU tournament with only two coaches whose effort is spread thin amongst UM's large team of mostly inexperienced walk-ons. Steinberg says other teams have more coaches, so he is proud of what the team has been able to do in their circumstances.
"Our debate team is unique," Steinberg said. "Participation here is open to any undergraduate student."
President of the policy debate team, Julia Lynch says she is hopeful for what it is to come next for the team because she didn't realize the team would do so well at LU.
"Advancing to finals wasn't something we expected, said Lynch. "It's a great culmination to what we've been working for since the beginning."
The team travels to Emory University in Atlanta for the District Qualifying Tournament on February 13-16, and then to Las Vegas for the American Debate Association Open Championships in March.
Read more about the University of Miami debate team here: https://debate.miami.edu/about/.
From: https://com.miami.edu/2020/02/06/um-debate-team-advances-to-finals-at-liberty-university-tournament/