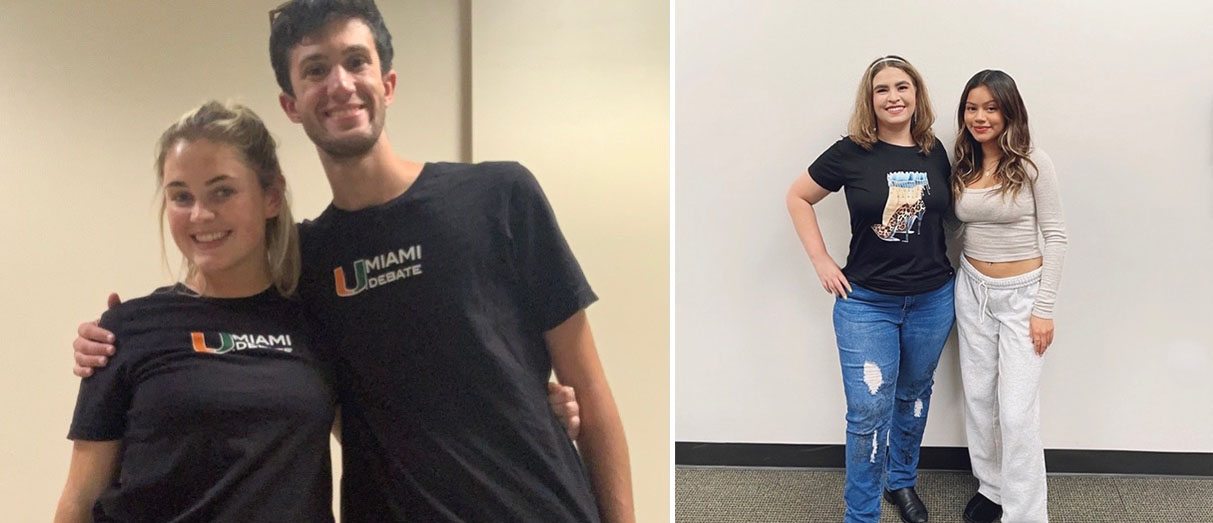 UM Debate Wins Championships
Left: Anna Heinzen and John Oliva
Right: Mollie Blank and Leah Casteneda
On the weekend of October 22-24, UM Debate competed in two online debate tournaments, and won both! The UM Debate Intercollegiate Debate Program, unlike most college debate programs, competes in multiple formats of debate. U Debate is a broad-based program open to all undergraduate students, offering a variety of debate styles and welcoming student debaters of all experience levels.
UM Debate has long been a leader in academic policy debate, competing in the American Debate Association, Cross Examination Debate Association and American Forensics Association National Debate Tournament. In these debate organizations and in this style, debaters research and prepare in-depth cases while debating a year-long topic. Competing in the policy tournament hosted by Wayne State University, UM debaters Mollie Blank and Leah Casteneda won the event's Novice Championship by winning the judges' decisions in all six of their preliminary debates to earn a bye through the quarterfinals into the Semifinals. There they defeated a team from The US Naval Academy on a 3-0 decision to advance into the final round where they again prevailed with a 2-1 vote of the panel over debaters from The University of Indiana. Each debate lasts roughly two hours. Competing in their first tournament ever, UM Debaters Vivian Chen and Jacob Rona won three of their six debates for an outstanding start to their debate careers.
The Hurricanes also compete in the United States Universities Debating Championships in British Parliamentary style debate, wherein debate motions are drawn 15 minutes prior to each debate, challenging debaters to be up to date on world events, philosophy, culture and an infinite range of potential topics. In this format, four two person teams compete in each debate for the top spot. In the tournament hosted by Loyola University of Chicago this weekend, the UM Team of John Oliva and Anna Heinzen advanced into the final round where the panel of judges named them the tournament champion over two teams from The University of Wisconsin and a team from Denver University. Also competing well, but narrowly missing the break into finals were UM teams Natalie Doherty and Ashiqur Rahman, and Jay Cassone and debating in her first intercollegiate tournament, Simone David.
UM Debate is both a student organization and a co-curricular activity sponsored by The Department of Communication Studies in the School of Communication. For more information, contact Directors of Debate David Steinberg at dave@miami.edu or Patrick Waldinger at waldinger@miami.edu.