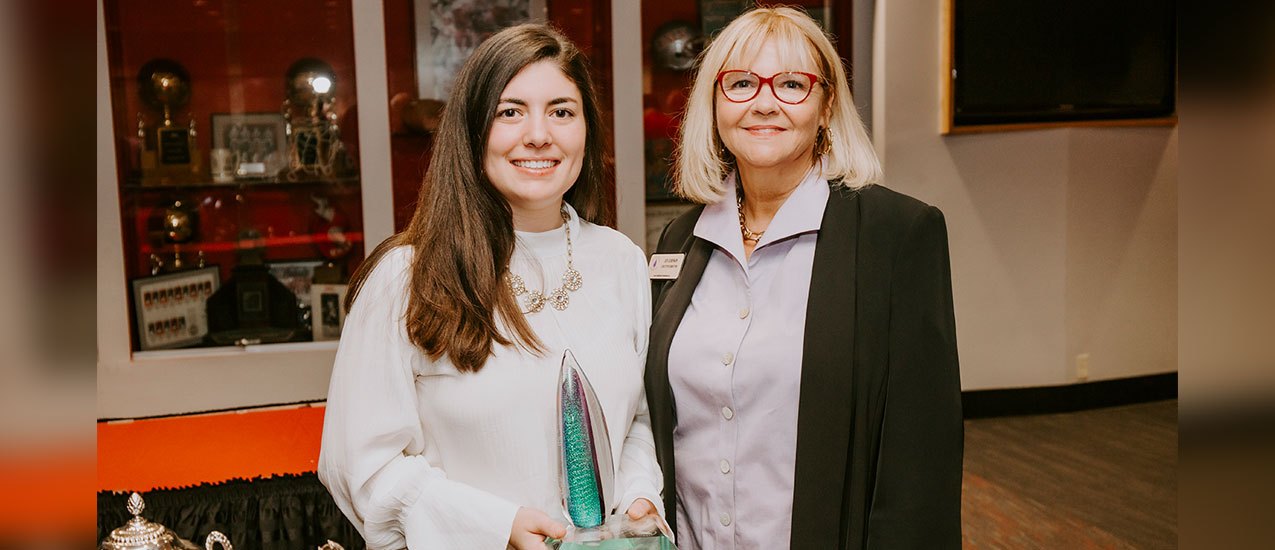 UM Senior Wins Prestigious Debate Award
By: Jabria Roscoe
Julia Lynch, an avid debater and finance and legal studies major at UM, is the recipient of the prestigious Julia Burke Award for Character and Excellence. Lynch received the award at the American Debate Association National Championship tournament on Mar. 8 in Las Vegas.
"It was a really incredible award to win," said Lynch. "I've known about it since my freshman year of college, so it was very emotional."
The Julia Burke Award is unique because it not only recognizes someone who wins debate tournaments, but also a debater who contributes to the debate community. The recipient of the award is nominated and voted on by other debate coaches and peers.
Lynch's debate coach, Patrick Waldinger says Lynch is one of the best debaters he's had. He said that he nominated Lynch for the award because of her dedication to the debate community. "She's an amazing person, she's an amazing student, she's kind and she will be there for you no matter what," said Waldinger. "She's passionate and she's going to do great things."
Lynch says she wasn't expecting to win the award but feels her win is a representation of the connections she has formed while being a debater at UM for the past four years.
"For the team it definitely shows so much growth and how supportive we've been. We have 40-50 people who will debate, and we all support each other. It's just not about how well you do, but also the community you can form," Lynch said.
Along with her award, Lynch received a $2,000 scholarship and $2,000 to donate to charity. Lynch chose to donate to the Miami-Dade Urban Debate League (UDL).
"UDL is an organization that facilitates debate in places that typically don't have much funding," Lynch said.
Lynch has been involved with the organization since she was a freshman.
"I've volunteered and worked at the summer camp where kids come to UM and get to experience debate in a new way. I really value being a part of it."
With everything she has accomplished in debate, Lynch has come a long way. "In high school, I did Model UN and I thought it was a good way to get me out of my shell," said Lynch. "When I came to Miami and I saw they had a really competitive team I was super interested and decided to join.
Now that she has received the Julia Burke Award and her season was cut short by COVID-19, Lynch says she hopes to continue contributing to the debate community.
"I definitely foresee myself continuing to be involved in the community. Hopefully I end up teaching debate," said Lynch.
The Julia Burke Award was created in 2003. It is a part of the Julia Burke Foundation which was created to honor the late debater Julia Burke who tragically died in a car accident in 1998. Learn more about the Julia Burke Foundation here: http://juliaburkefoundation.com/home.php.
From: https://com.miami.edu/2020/04/30/um-senior-wins-prestigious-debate-award/