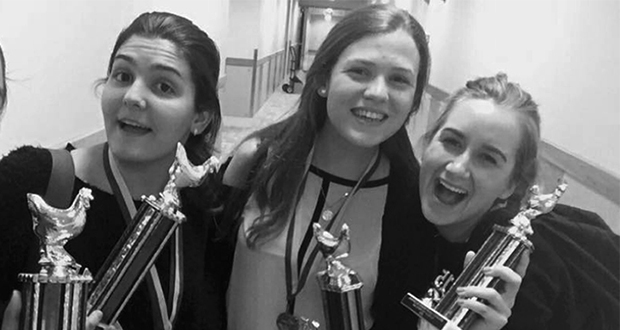 UM Debate Wins First Tournament Championship of 2015… In Spanish!
The University of Miami Debate Team earned top honors at the University of North Georgia debate invitational over the weekend of Sept. 25-27.  Eight students represented The U in Parliamentary Debate competition in English and in Spanish at the event in Gainesville, Georgia. Two of the four teams advancing to the final round of Spanish language debate were UM teams. The UM team of Juliana Carvajal (junior, political science) and Victoria Ormaechea (sophomore, media management) won first place honors and Natacha Larnaud (junior, journalism) and Maria Victoria van Eerdewijk (junior, international relations) finished third. Victoria Ormaechea was recognized as the top individual debater of the tournament, and Victoria van Eerdewijk was the fourth place speaker. UM was also represented in the English language finals, with the team of Rachel Chapnick (junior, political science) and Virgil Capote (sophomore, communication studies) finishing in second place for the tournament. Capote was recognized as the third place speaker.
Among the teams competing at the tournament were The University of Mississippi, Morehouse University, Middle Tennessee State University, Valdosta State, and North Georgia. During the tournament, each team participated in eight to 10 debates about a variety of topics, including papal diplomacy, birthright citizenship, prison reform, primary politics, the war on terror, and social justice marketing campaigns.