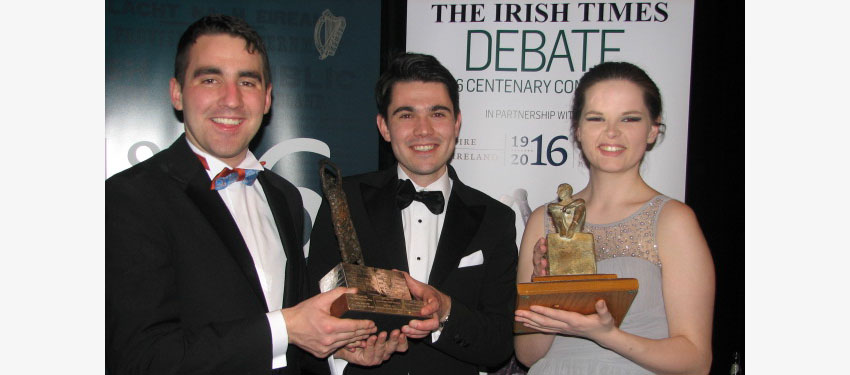 UM Hosts Irish Debaters
The University of Miami's Debate Team will host three award-winning Irish debaters on Monday, April 4, at 6 p.m. in the Shalala Student Activity Center, Activities Room South, third floor on the motion this house believes the political success of Donald J. Trump in the Republican primaries is a reflection of the demise of American democracy.
The Irish Times newspaper has hosted the debate tour to the U.S. since 1980. Every year, four schools are selected to host the team and UM has been selected to host for the past 14 years.
Two of the three Irish debaters, Ross O'Mahony and Aaron Vickery, are members of the Solicitor's Apprentice Debating Society. The third debater, Clíodhna Ní Chéileachair, attends the University College Dublin.
Since arriving in the U.S., the team has traveled to New York, California, Washington, and Montana. After Miami, the team heads to Atlanta and then back home.
The Irish trio is up against UM's Virgil Capote, Rachel Chapnick, and Klaudius Maynard. Capote, Chapnick, and Maynard are members of UM's Debate Team and have been preparing diligently for this upcoming debate, which is set just four weeks after UM hosted the most recent GOP Debate on March 10.
Similar to the public debate hosted against the iDebate Rwanda Team last October, the teams will compete in a 3-on-3 public debate with a period designated for audience participation.
The Irish Debate event is the last public debate hosted by the team this year. Along with hosting public debates, the team, which has existed since the university's founding in 1925, also competes nationally and internationally in the Policy Debate and British Parliamentary Debate categories. In the coming weeks, the UM Debate team will travel to Morehouse College in Atlanta for the United States Universities Debating Championships, and to Chapel Hill, North Carolina for the ACC Debate Championships.
Along with competing, the debate team has also worked on giving back. This year the team helped to launch the Miami Dade Urban Debate League  to bridge the achievement gap in underprivileged middle schools and high schools by introducing debate to at-risk students.
UM's Director of Debate is SoC professor, David L. Steinberg, He believes this debate will benefit all students because it will provide an international perspective on the U.S. presidential campaign..
"We will be discussing an important question about the nature of our country. The Irish debaters will be able to offer an international perspective which should be revealing. And, they are always entertaining and engaging. They value wit and humor, and are terrific public speakers. Of course, both sides will offer smart and reasoned analysis, but the engaging Irish style is custom-made for an audience debate. And there will be free Pizza," says Steinberg.