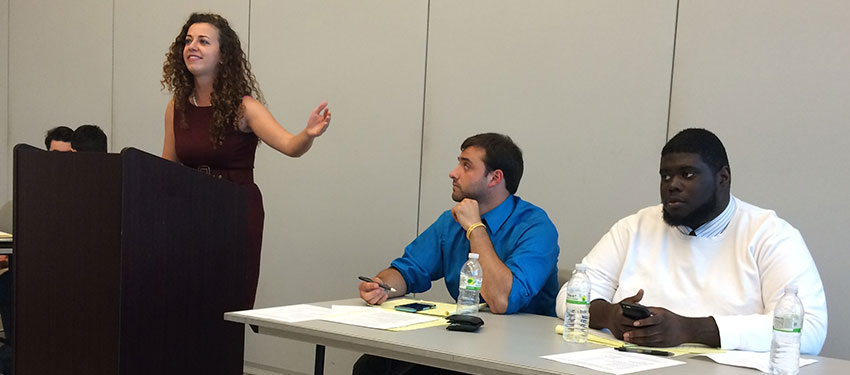 Luck of the Irish Prevails in Public Debate
The University of Miami Debate Team hosted a three-person team of debaters from Ireland on Monday, April 4, at the Shalala Student Activity Center. The public debate focused on the motion that this house believes the political success of Donald J. Trump in the Republican primaries is a reflection of the demise of American democracy.
The two teams competed in a hybrid debate combining elements of British parliamentary debate and town hall debate. During British parliamentary debate, each speaker is given seven minutes to state their argument for or against the proposition. Representing the proposition, the Irish began the debate when Ross O'Mahony sent the audience into shock with his conversational and witty opinion of the GOP frontrunner.
"We don't just have a problem with Donald Trump because he looks like a pumpkin having a nervous breakdown. We have serious issues with him. We think he's a representation of the failure of the democratic infrastructure of this nation, and we also think he is a representation of a persistent political culture developed by irresponsible conservatives," said O'Mahony
O'Mahony was joined by teammates Aaron Vickery and Clíodhna Ní Chéileachair. After winning the Irish Times Debate Finals, the trio traveled the U.S. beginning in early March, and finished off their last debate at UM. UM has hosted the Irish Debate Tour for the last 14 years.
The debate with the team from Ireland was this year's last public debate for the UM team. Along with hosting public debates, the team, which has existed since the university's founding in 1925, also competes nationally and internationally in the Policy Debate and British Parliamentary Debate categories. Continuing in the British Parliamentary style, UM's Virgil Capote replied to O'Mahony's view by arguing Trump's offensive language represents the very essence of democracy.
"No, I don't think Trump's opinion on Muslims is good for democracy. But, silencing these voices is not good for democracy either. These voices create a debate in itself. We value the first amendment because we value controversy. We need to debate controversy in order to see the truth. We may not agree with Trump's opinion, but we have to understand that some people do," said Capote.
The audience erupted by knocking on their chairs and shouting "hear, hear," a common way of expressing approval in a parliamentary debate. Aaron Vickery reasoned against Capote's claim by stating that Trump is simply a representation of a system taken over by the elite and their funds. Vickery explained that in Ireland neither the citizens nor the candidates are allowed to fund campaigns the way the U.S. allows.
UM's Kladius Maynard argued against Vickery's statement by affirming that anyone, including people others may find offensive, can run for president as long as he or she was born in the U.S. and is at least 35 years old. Maynard's claim ended the British parliamentary portion of the debate and began the town hall portion.
During a town hall debate, audience members are invited to state their opinions or ask the teams questions. Hands shot up immediately for a chance to participate in this controversial argument. The Irish debaters were asked whether or not they believed a two-party system is best. Vickery, a law student and member of the Solicitors' Apprentice Debating Society of Ireland, believes Ireland's multiple party system is better than the American system, where majority rules.
"Majority rules is not democracy. There is a responsibility for democratic leaders not to allow racists to the top. We don't think you should be able to elect someone like Hitler. There should be processes," replied Vickery
The debate heated up when UM's Rachel Chapnick, who participated in this year's first public debate against IDebate Rwanda, pointed out that Hitler was elected through a five party system.
"Democracy is constantly reforming itself. With Trump, we see a rise of the Jacksonian populous. There were some things Jackson was able to do. He gave the power back to the people. We think that the growing interest of the American people in their government is fundamentally a good thing. Since, Jackson American democracy has grown stronger. Trump is building a re-interest in American democracy," said Chapnick
Chapnick's cliam on Trump was followed by a rebuttal by Clíodhna Ní Chéileachair, the youngest debater on the Irish team. Ní Chéileachair's "shopping list" of arguments against Trump guided her team to victory over UM based on audience votes.