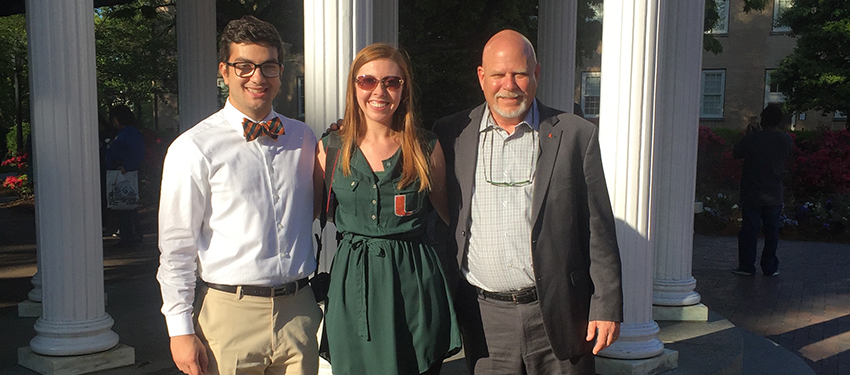 UM Debate Wins Coastal Division Championship, Runner up in ACC Tournament
From April 15-17, the UM Debate Team of Renee Reneau and Michael Fuentes competed in the Atlantic Coast Conference Debate Championship tournament, hosted by the University of North Carolina at Chapel Hill and supported by the ACC Academic Consortium under the direction of David G. Brown.
"The ACC Debate Championship is a first class event that bridges the success of our outstanding athletic conference with the academic excellence of our member schools," says David Steinberg, director of debate.
The teams competed on both sides of the topic, Resolved: That the United States should adopt substantially more restrictive gun control regulations, including a prohibition on carrying firearms on college campuses. In the preliminary debates, the UM team collected wins against the University of Pittsburgh, the University of North Carolina, and Georgia Tech, losing only to Duke.
Mirroring football, the Coastal Division wound up in a three-way tie, with UNC, Duke, and UM all completing in the preliminary debates with 3-1 records. The tie was broken on speaker points with Reneau finishing third place overall and Fuentes fourth, allowing UM to easily pass their competition into the final round against Wake Forest. The final round was a close competition, but the panel of judges voted in favor of Wake, sending UM home in second place.
"I am really proud of our students' success at this tournament, and one of these days, we'll find a way to beat those pesky Demon Deacons! Also, this was a wonderful last competition for Renee and Michael, both graduating seniors who have helped build UM Debate into the outstanding program it is. They will be missed," says Steinberg.
This was the second ACC Championship Tournament, and the second year in a row Miami advanced into the final round only to lose to Wake. Director of Debate David Steinberg coached the UM Debate Team at the ACC Championships.
"The ACC's Academic Consortium was developed largely through the leadership of our former president, Donna Shalala. Senior Vice Provost & Dean of Undergraduate Education Bill Green currently serves on its advisory Committee. The competition is designed in a unique competitive format rewarding public debate skills," says Steinberg.
For more information about the event, visit:
http://college.unc.edu/2016/04/15/acc-debate/
http://www.theacc.com/news/second-annual-acc-debate-championship-set-for-april-15-17-04-15-2016