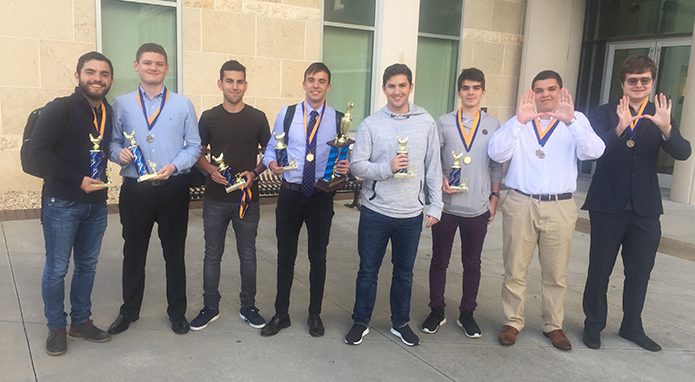 UM Debate Begins Season with Championship
The University of Miami Debate Team started strong in Parliamentary Debate competition with the first-place sweepstakes award for the best overall squad performance at the tournament hosted by The University of North Georgia in Gainesville on October 14-15.  Four two-person teams represented The U at the tournament, competing with Clemson, The University of Denver, La Verne University from California, The University of Mississippi, and the host, North Georgia.    Three of UM's teams competed in Spanish Language Debate, the fourth in English.  After five preliminary debates, all four UM teams advanced into the semifinal round.  Two of the Spanish teams advanced into the finals, but the tournament team Champion was North Georgia.  The Clean Sweep of the UM teams into the "playoffs" along with seven out of eight UM debaters receiving individual awards as top speakers secured the overall championship for Miami over the bigger entries from Clemson, Ole Miss, and UNG.  Alfred de St. Croix, a sophomore Finance major from Panama City, Panama was the top Spanish Novice Speaker and Jean Houlzet, sophomore International Studies major from Miami won the top Spanish as a second language speaker award.  Also winning individual recognition in Spanish debate were team captain Christian Guevara from Galicia, Spain, Martin Haberer from Argentina, and Alan Lukowiecki and Anthony Sola, both from Panama City, Panama.  Finishing the tournament as the second seed were the English language team of Artim Sviridov, a junior Computer Engineering/Physics from Miami and top ten speaker Zac Homeijer, a freshman from New Jersey.
In parliamentary debate, a motion is announced and debaters have 15 minutes to prepare for their debates.  Topics discussed included Catalonian Independence, Environmental Terrorism, The flag as a symbol of soldiers of war, social movements, social networking and sharing culture.  The Parliamentary team travels next to Dominican University in San Rafael, California on November 3.