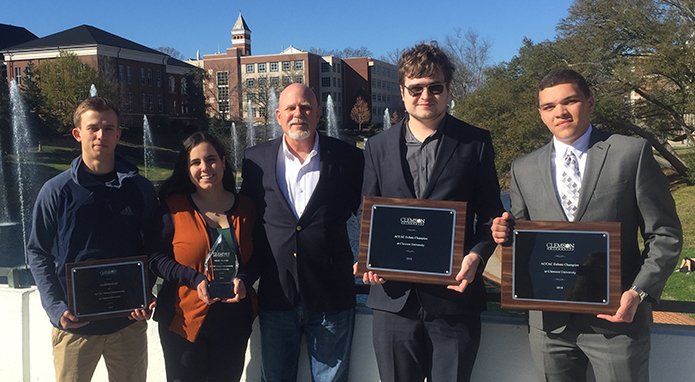 UM Debate Defeats Clemson to Win the 2018 ACC Debate Championship
On March 3-4, The UM Debate Team traveled to Clemson, South Carolina to compete in the Fourth Annual Atlantic Coast Conference Debate Championship Tournament.  In each of the first three years of the tournament, UM advanced into the finals but settled for second place.  This was finally the Hurricane's year, however, as the UM Debate team dominated their competition.  The UM team of Artem Sviridov and Zach Homeijer completed a perfect performance to emerge as the 2018 ACC Debate Champion.  They compiled a perfect 5-0 record in the preliminary debates and advanced over their UM teammates, Leandra Lopez and Ted Appel in the semifinals to face Clemson in the final round.  Leandra Lopez was recognized as the 3rd place speaker in the tournament.  UM is the only ACC member school to advance into finals in every ACC Debate Tournament.
The tournament is sponsored and supported by the ACC Academic Consortium, which leverages the athletic associations and identities among the 15 ACC institutions in order to enrich the educational missions of each.  To learn more about the ACCAC, visit http://acciac.org/.
"Debate competitions build life skills—listening, advocating, writing, speaking, understanding contrary ideas and recognizing difference among listeners," said Dave Brown, coordinator of the ACC Academic Consortium and provost emeritus of Wake Forest University. "Our 15 universities know each other well because of athletic competitions. It's natural and wonderful that athletic familiarity enhances academic collaboration, athletic competition encourages academic competition."
This year's topic centered on medical ethics, with competitors debating both sides of the issue "In the instance where a patient is reliant on sustained medical treatment to stay alive, This House Supports the use of a panel of medical and ethical experts, including a patient's doctor, to make a binding decision for or against the provision of life-extending care."
The format for the tournament blends competitive academic debate styles with a public "town hall" flavor.  The Clemson tournament was adjudicated by a blend of experienced debate educators across various debate styles with content area experts in a consensus-style judging which seeks to approximate critical public audiences.  Select debates, including the Finals, can be viewed at https://www.youtube.com/channel/UCc4MnfQBN2XRuQFfO1YWcwg/featured.
The UM Debate Team is Directed by David Steinberg and Patrick Waldinger in the School of Communication.  For more information, visit https://debate.miami.edu/.