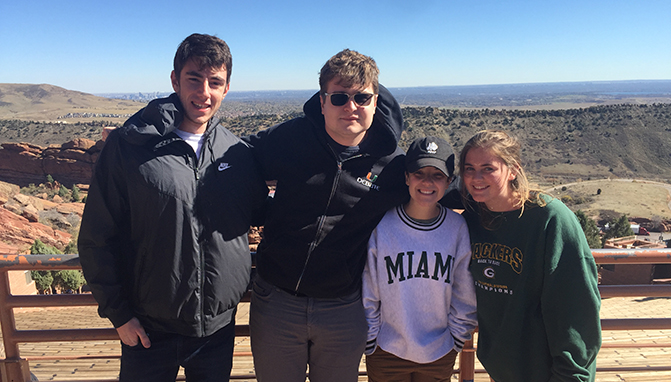 #4 UM Debate Team Travels West
The UM Debate Team traveled west this weekend, with the British Parliamentary Team competing at Denver University, and the Policy Team competing at The University of Nevada at Las Vegas.
The Parliamentary team finished out of the award rounds, but competed well against outstanding competition including University of Alaska, Loyola of Chicago, The US Air Force Academy, and Clemson, among others.  Freshman Anna Heinzen competed in her first intercollegiate debate tournament with partner Kerra Masso, and Evan Aldo and Artem Sviridov also represented the U.
The Policy Team had another successful outing in the tournament at Las Vegas, as Novices Zach Homeijer and Sana Hasija advanced into the Final Round to face Fresno State. Julia Lynch and Jiaying Li won five preliminary debates against only one defeat for a 5-1 record and 4th seed in JV.  They advanced into the quarterfinals where they lost a 2-1 decision to The University of Southern California. Julia was 6th speaker. In Novice, Zach and Sana were 6-0, top seed. They defeated Southwestern College in Quarters and The University of Houston in Semis (both 3-0's). Zach was 3rd Speaker. They were upset by Fresno in the finals on a split decision, completing an outstanding squad performance.
After the Las Vegas results, The UM Debate Team is ranked #4 in the most recent Standings (https://www.tabroom.com/index/results/ndt_ceda_points.mhtml).
The team will travel next to West Point, New York on October 26-28 to compete at the United States Military Academy, and will host a public debate with a debate team from Rwanda on October 30 at 7:30 in the Senate Room of the Shalala Student Activities Center (CTR 302).  The Rwandan Debate is open to the public.  For more information about UM Debate, contact David Steinberg at dave@miami.edu.