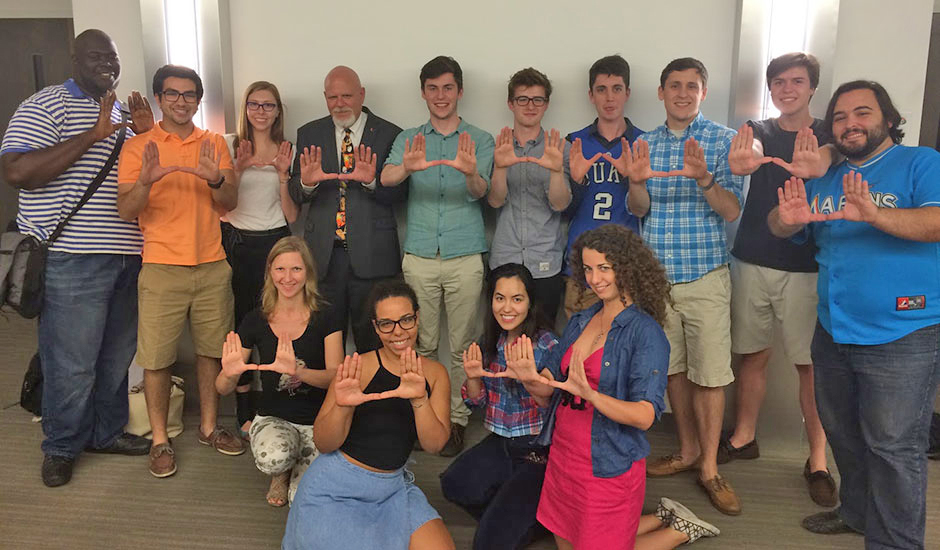 T
he University of Miami Debate Team invites Middle School and High School students of all experience levels to participate in the 27th Hurricane Debate Institute offering instruction and practice in: Public Speaking and Argumentation, Public Forum, Competitive Speech, Student Congress, and Lincoln-Douglas.
The Hurricane Debate Institute is an official University of Miami program sponsored by the School of Communication.
The University of Miami Debate Team is the reigning ACC Debate Tournament Champions! In addition, they have won the 2018 Lafayette Debates National Championship, the 2018 Georgia State Debate Tournaments and were National Finalists at the 2019 American Debate Association National Championship!
Institute Philosophy
We believe that no other educational activity is as rewarding as participation in debate. Debate and competitive speaking are fun and exciting. We facilitate a comfortable environment where students can learn by doing, with the guidance of caring and experienced instructors. Our focus at the Hurricane Debate Institute is to engage the personal development of logic, research abilities and independence that will create an effective debater and public speaker who can effectively communicate in any given situation.
Programs
Middle School Public Speaking and Argumentation
High School Public Speaking and Argumentation
Public Forum
Competitive Speech
Student Congress
Lincoln-Douglas
2019 Dates and Tuition
Week 1 – June 10 – 14
Week 2 – June 17 – 21
Week 3 – June 24 – 28
Times: 9:30am to 3:30pm
Tuition information can be found by clicking on the hyperlinked programs above. Tuition depends on the specific program the student is participating in.
Tuition includes quality instruction and materials that are unique to the Hurricane Debate Institute. Students will receive written assessments of their skills and areas for improvement. Students will also receive a t-shirt and certificate of completion. Lunch and snacks will be provided daily.
Application & Deposit
Click Here to Apply Online
Applications can also be emailed to hurricanedebate@gmail.com. They may be faxed to 305-284-5216. Applications and deposits can be mailed to:
Patrick Waldinger
P.O. Box 248127
Coral Gables, FL 33124
Registration is not complete until an application and non-refundable deposit of $100 has been received.
Deposits:
Checks: Please make all checks payable to UM Debate.
Credit Cards: We accept all major credit cards online at http://www.com.miami.edu/payment
Website instructions: Visit http://www.com.miami.edu/payment. Select Hurricane Debate Institute from the category drop-down list, enter the amount you will pay, then enter the STUDENT INFORMATION into the fields below and click the Submit button. On the second page click the Continue button, then enter in the credit card holder's information on the third page and click Continue. Please remember to confirm payment. An email receipt will be sent as soon as the payment goes through.
If you have any issues completing the online payment, please email hurricanedebate@gmail.com or call 305-281-2705.